What Parents say about us.
By R. Korb
The best place for your child! I have been sending my kids to Granada Child care for over 4 years. This is the most loving and consistent place I have had the pleasure to take my kids. They have had my oldest son since he was 4 months old and my younger son since he was 6 months old. They are just amazing. They love my kids. They teach my kids. They are a part of our family. Both my boys will go there until they go to Elementary school. I can't imagine taking them anywhere else. They do a wonderful job using consistent routines to help any child adjust quickly to their day care. I can't recommend them enough.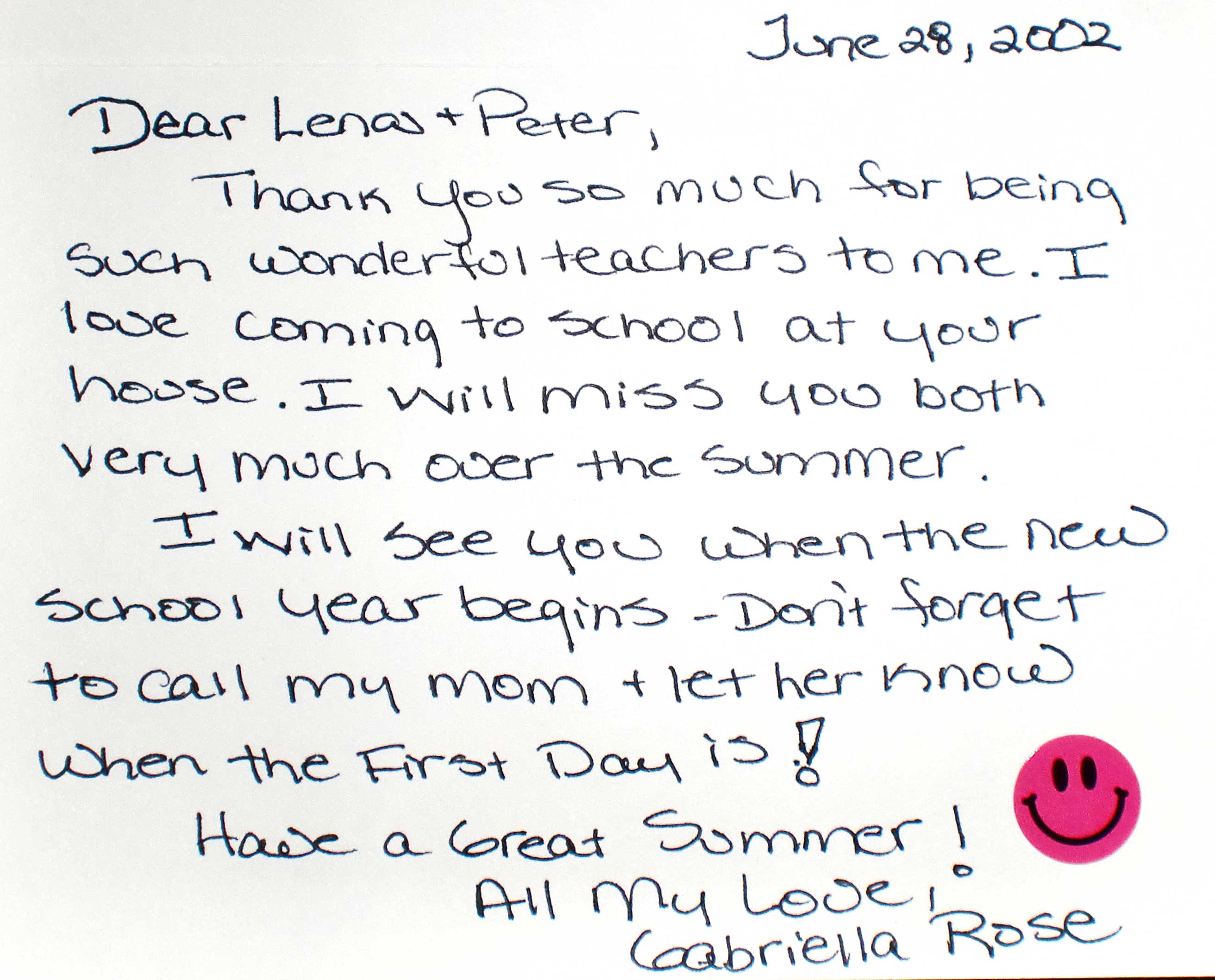 By Roza Kushnir
Executive Assistant to Roger Zino, President
ValleyCrest Landscape Maintenance
My daughters have been attending Granada Child Care since September 2006. My daughter Petra , 4, is attending the daycare program and my daughter Izzy, 7, is attending the after-school program. The owners, Eleanor and Peter Polonsky, take very good care in providing my children with a safe, educational, and fun environment. It is most important for a mother to feel safe in leaving their children in the care of others and I absolutely do. Eleanor and Peter care for my daughters and give them lots of warm hugs and attention. They make sure they are well fed, get enough rest during the day, give Petra the educational preparation she needs to begin her studies in kindergarten, and make sure they have lots of fun in their large backyard, where the girls run around and get their energy out during and at the end of the day. I am happy to have found Granada Child Care, because as a working mom it is nice to know that I can count on them to be there for my children and myself.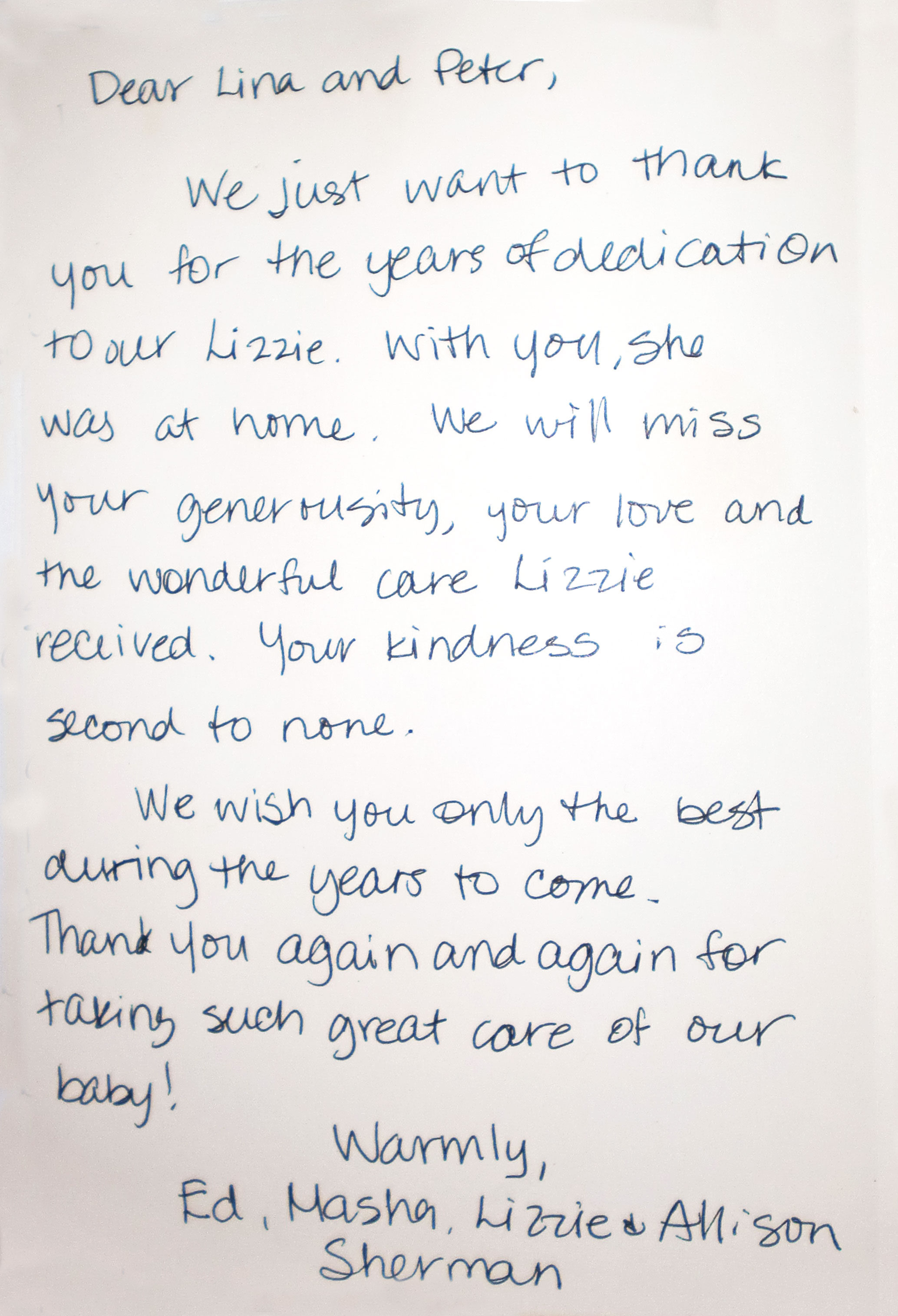 By Melanie T.
Granada Child care creates a nurturing environment where children can play, learn, and grow. Through a structured routine, children learn social skills, exercise, and academics. Granada Child care provides a stable and loving environment for children to be children.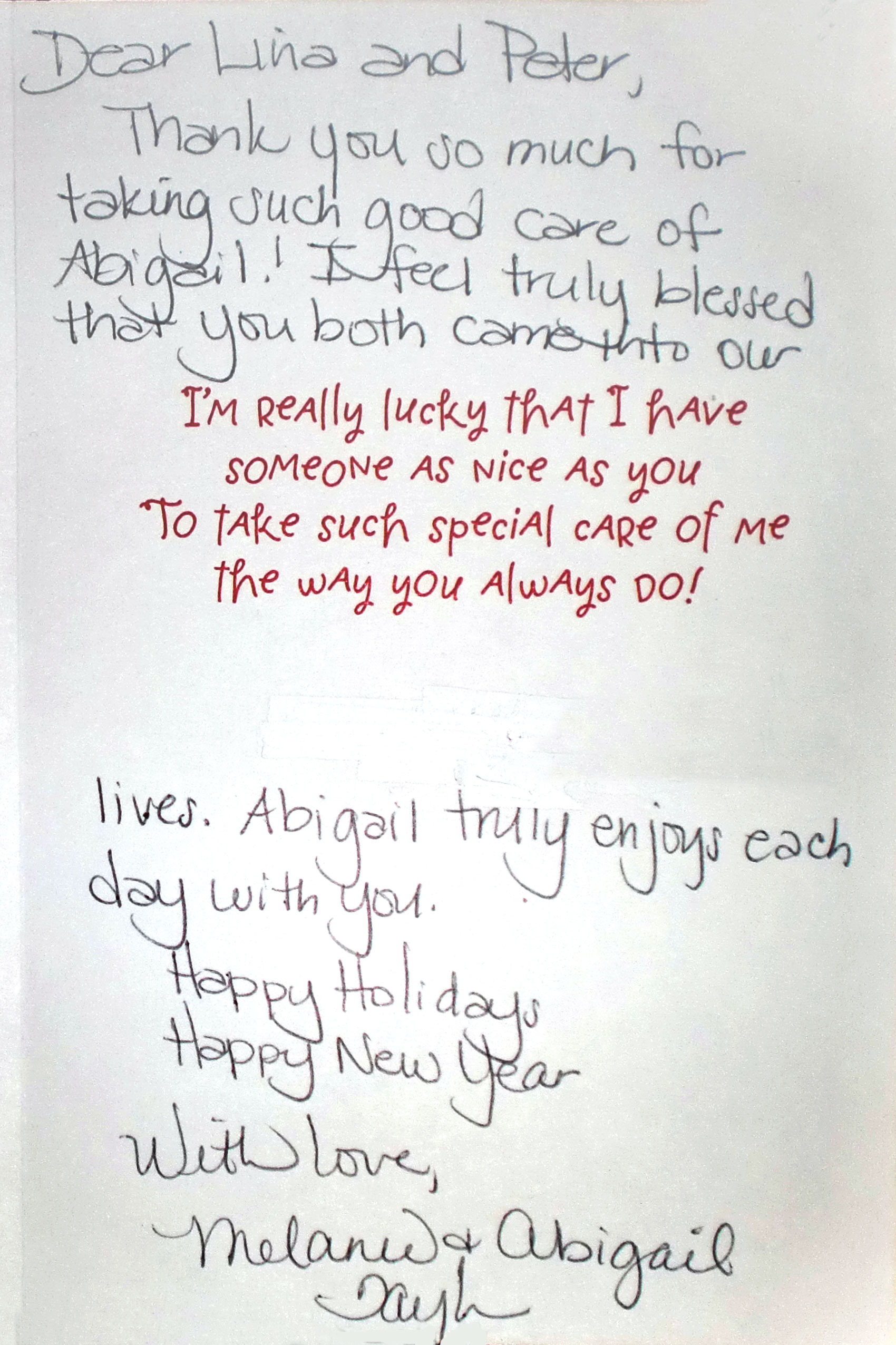 By Janna Bronechter happy parent of Samantha Bolotsky (2).
Granada Hills Child Care has been an enriching and worthwhile experience which I can highly recommend to any parent. We truly believe that our daughter is receiving the highest quality of care and a tremendous life experience that will be remembered forever. It has a very comfortable environment. Children are happy to come to learn. The leadership is wonderful and if you are looking for the right place for your kid this is the place. It really lets the child be the child. Children learn by doing and this school lets them explore in every way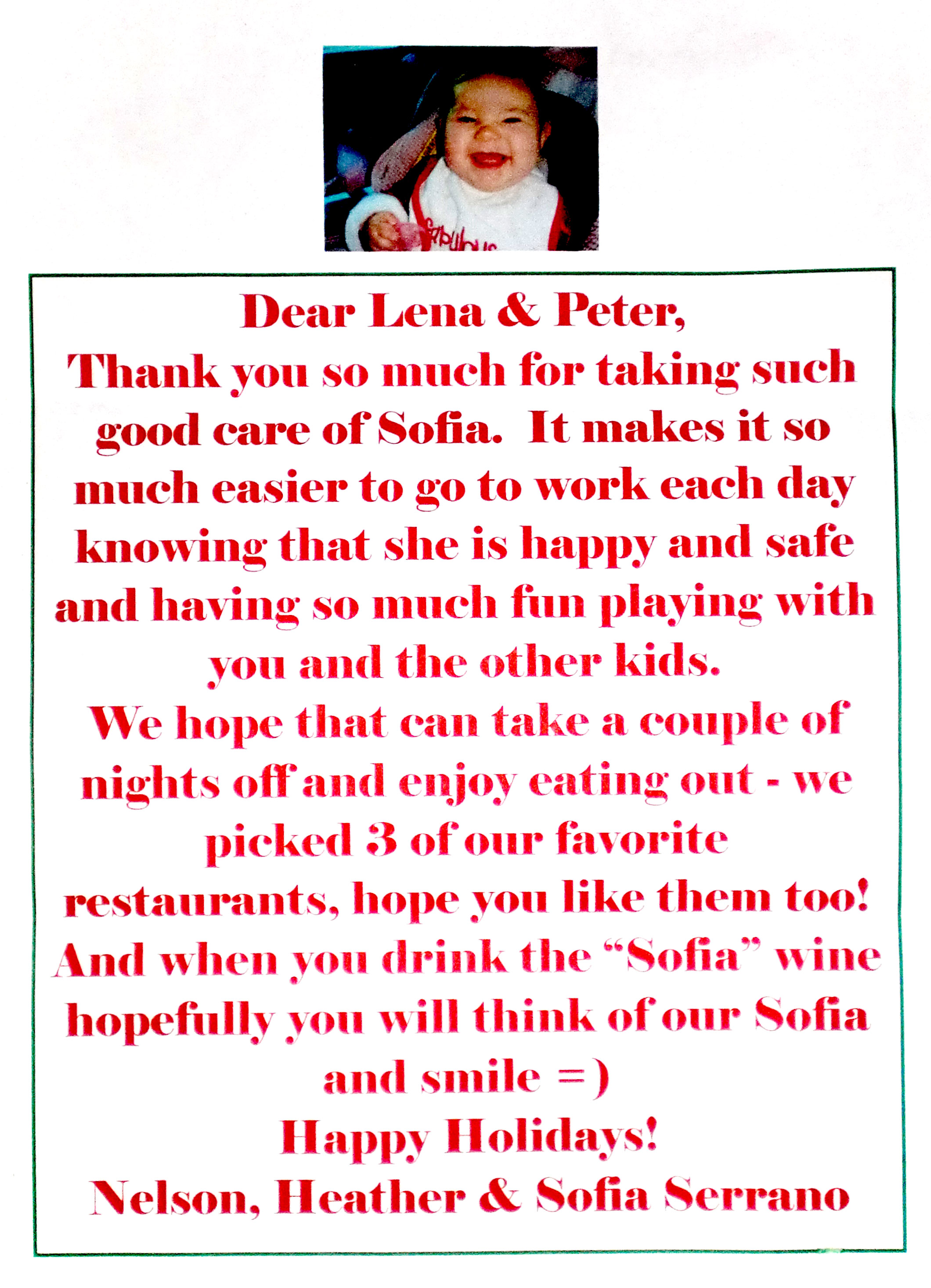 By Paul & Edna Wittemann.
We have had our two sons attend Granada Child Care since they were babies and we are really pleased with this child care facility. The care that was given to our sons was extraordinary. We especially like the schedule that is implemented each day - including outdoor and indoor playtime, snack time, learning time, nap time and tv time. Lena and Peter are excellent teachers - they not only helped our children learn how to walk, talk, and develop physically, they also taught them how to color, learn the alphabet, numbers, and how to write. They cook excellent healthy meals that our kids love to eat. Our older son is now 13 years old and has been at the top of his class since Kindergarten. Our younger son is still in their care and will be attending Kindergarten next year, and we know that he is already more advanced academically than most other kids his age. We attribute these successes in many parts to the excellent focus on education at Granada Child Care. We also feel that the facility is very safe and we get that warm cozy feeling leaving our children there. Lena and Peter act more as grandparents than as business owners, which helps our little ones feel at home every day that they are placed in their care. We highly recommend this child care center to all parents and know that you too will feel blessed to have your children in the care of Lena and Peter at Granada Child Care.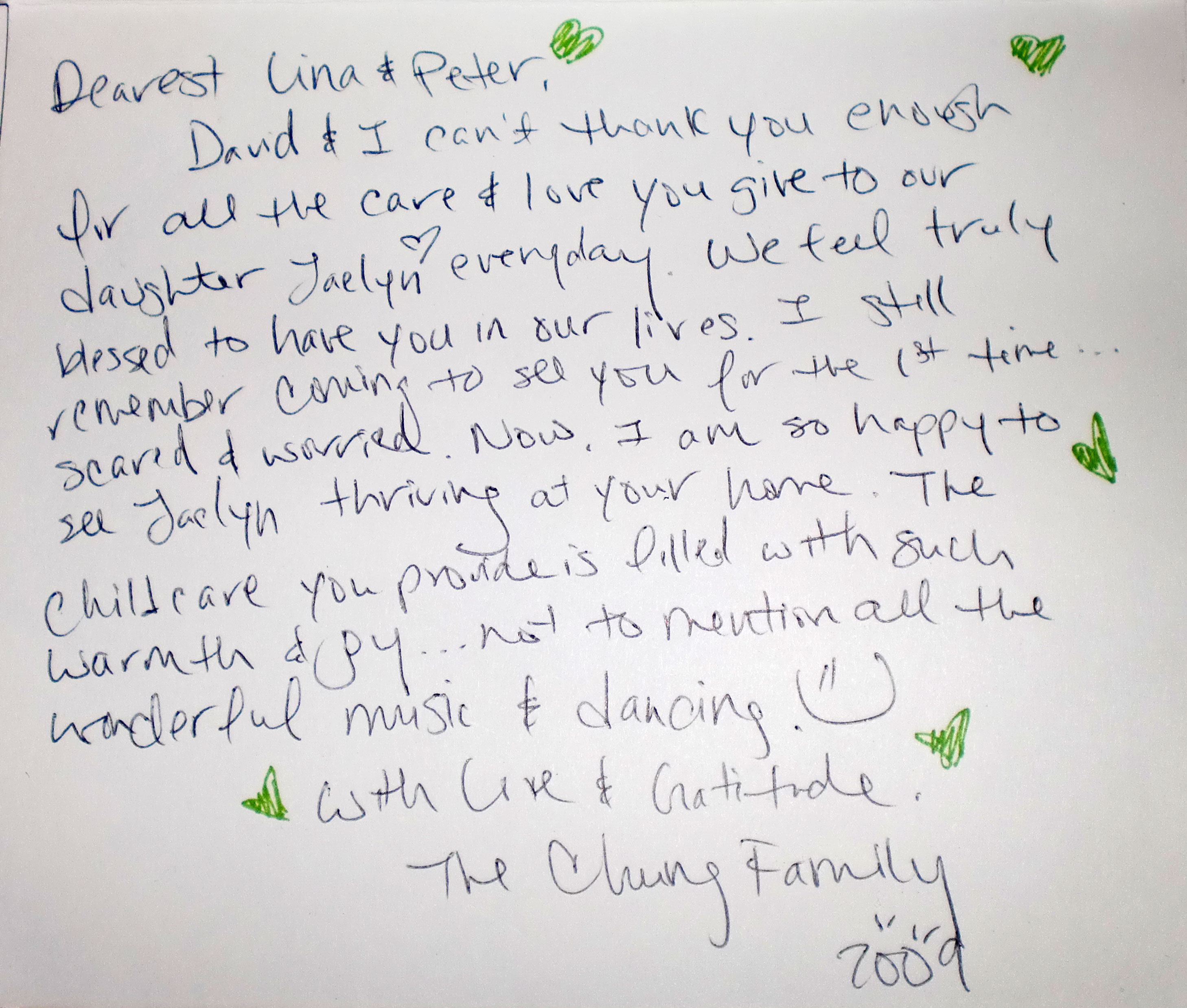 By Marianna S.
Both of my boys have been attending Granada Childcare since 2002 and I trust their services completely. My kids are learning something new every day, they developed great social skills and they love Lena's delicious cooking. Both Lena and Peter are highly skilled teachers with many years of experience and great hearts. It's always positive and calm environment, lots of encouragement and hugs. I would highly recommend this daycare to any parent looking for the best.
By Gregory Radionov.
I have spent four days working as contractor at the home improvement project at Granada Child Care and was absolutely charmed to see the true family spirit. Kids are having fun, learning, socializing, eating and sleeping as one big family. We did not hesitate one moment to send both our boys there. My wife and I feel absolutely safe knowing that our kids are happy there every day. They want to go every morning, and we are having trouble taking them home at night: they want to be with their friends! The athletic program is excellent, and home made meals are fantastic! I like their learning time, which includes computer, drawing, and teaching to read and write. There are lots of day care facilities in our area but we have no trouble driving four miles one way, because our children have great experience in Granada Child Care!
We are located on:
13183 Ingres Ave,
Granada Hills, CA 91344
You can reach us at: 818-366-4952